Gear for Historical Fencing Classes in Port Townsend, WA
Uniform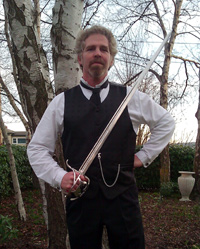 Yes, we prefer white button-down shirt, black pants or skirt. Tie, pocket watch, both optional. All skin covered. Donít have such stuff, donít sweat it. Work towards getting there so we look less like a bunch of oddballs playing in the park, if thatís possible.
Protective gear
Disclaimer: I havenít tried all of these and quality tends to shift over time and with manufacturers. Safety is important, even if I tend to be flip in class. Gear up for better training.
Mask
Disclaimer: I donít know the difference between these, but Iíd tend to go upscale for masks. You only get one head):
Arms ďVambracesĒ
Iíve often got a couple loaners. You only need right, but left is good to have.
Leather do-it-yourself vambraces are fine. Go thick for fewer bruises
Fancy plastic vambraces ($60)
Gloves
Any darn hardware store work glove is fine for starters
Protection
Men are strongly encouraged to wear cups. Iím not going to check. Your stuff, your call
Women are strongly encouraged to wear a plastron. Example: https://www.leonpaulusa.com/clothing/chest-protectors.html I canít offer specific guidelines, but seems smart.